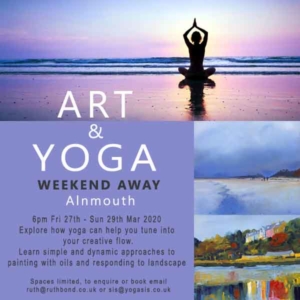 Yoga and Art weekend away
Join us in the picturesque Northumbrian coastal village of Alnmouth for a weekend of art and yoga!
Explore how yoga practices can help release tension in the body to enable you to tune in to your creative flow.
The yoga sessions throughout the weekend will focus on learning ways to move and become present and connected to your deeper self.
We will start the day by tuning in to our bodies through sensation, breath, and mindful movement, working with specific practices to encourage authentic self-expression and creativity, so that you can carry that with you through the day and into your artistic endeavours.
The evening yoga session will be a gentle restorative practice inviting you to unwind, reflect and meditate.
Learn simple and dynamic approaches to painting with oils, responding to the beautiful Northumbrian landscape around Alnmouth.
The course's step-by-step approach will feature demonstrations and exercises at each stage. It is a great opportunity to build your confidence, loosen up and widen your painting repertoire.
You will gain insight into how swapping a brush for a palette knife can have as much impact on the mood and tone of a piece as colour can.
Whether you are a beginner in oil paints or would like to build your confidence working with them, this course is designed to inspire and treat your creative self.
Outline plan:
Friday evening:
4pm – Access to house
Guest Free time – beach walk, local reckie, settling in etc
6pm – Welcome & introductions
7pm – Gentle Yoga
8pm – Dinner at Hope & Anchor (Optional)
Saturday:
Tea/coffee at house
8.00-9.30am Yoga
BREAKFAST
10.30-13.00 Art
LUNCH
14.15 – 16.15pm Art
FREETIME
18.00-19.30pm Yoga
8pm – Dinner at Red Lion (Optional)
Sunday:
Tea/coffee at house
7.45-9.15am Yoga
BREAKFAST
10.30-13.00 Art
LUNCH
14.15 – 16.15pm Art
16.45-18.15pm Yoga
Setting & Accommodation
Nestled on the Northern bank of the River Aln's estuary and surrounded by white sandy beaches and rolling hills, Alnmouth is our beautiful setting for this weekend of creative explorations. Just 43 miles North of Newcastle upon Tyne, Alnmouth can be reached by road or train, Alnmouth train station being on the main Edinburgh to London line.
Accommodation is spread between two luxury holiday properties in the heart of Alnmouth and the yoga and art workshops take place in Hindmarsh Hall, which is just between the two properties a couple of minutes walk away.
For more information about these lovely properties click here for Alnholme and here for Fairhaven.
The weekend starts with arrival from 4pm on Friday 27th, with a welcome session at 6pm and a gentle yoga practice before dinner. On Saturday and Sunday the programme is broadly similar, with yoga before breakfast, art workshops before and after lunch, some free time on Saturday afternoon to explore the gorgeous surroundings, and early evening yoga. The weekend closes at 6:30pm after a final yoga practice.
Our homes for the weekend
Each of our village homes has a selection of gorgeous rooms to choose from as you will see in the photos below. There are only seven bedrooms in total though, so spaces are limited, and early booking is definitely recommended!
To find out more about the lovely properties we are based in for this weekend, click here for Alnholme and here for Fairhaven
Alnholme
Fairhaven
Reserve your place
To book your place or register your interest please email me here