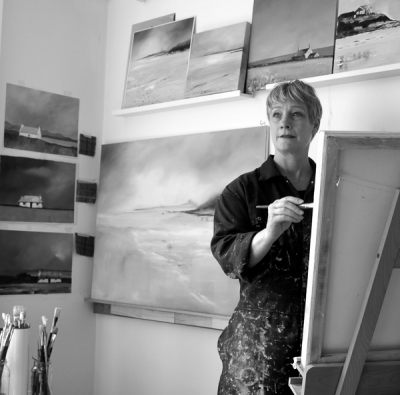 Born under African skies, Ruth Bond has worked and travelled in many countries across the globe, absorbing cultures, colours, textures and especially the beauty of the natural world.
Over the last 18 years the combination of these have inspired her design work (she's an award-winning interior designer) and now the light and the subtle colours of the coasts of Northumberland and the Western Isles of Scotland infuse her paintings, with some of the most dramatic skies and strikingly beautiful beaches in the world.
"I believe that in order to paint I need to see and experience the places myself" .
Ruth is lucky to have a base in the picturesque and extremely popular village of Alnmouth, and regularly walks the coastal paths from Druridge Bay up to Holy Island with her Border Collie, Skye. In 2017 she paid the first of many visits to the Outer Hebrides, where she realised that the colours of the natural landscape appeared again in the colour combinations of the renowned Harris Tweeds.
"Colour has always been the most important element of my landscapes and seascapes, and the colours I discovered in the Outer Hebrides were astonishing almost beyond imagination. Attempting to capture these in my oil paintings has been a beautiful experience. There is so much to see it is impossible to capture everything in one visit, so I look forward to returning regularly."
Ruth has established herself as a contemporary land and seascape artist. Over the past 7 years she has held regular solo and joint exhibitions in the North East of England. Her paintings are now collected worldwide.
Predominantly working in oils, Ruth employs a technique that uses both palette knife and brush resulting in the richly textured, vibrant style for which she has become renowned. She is now running workshops for art groups across the county.